UNDERGROUND WONDER BAR

 IS CHICAGO'S HOME FOR LIVE

JAZZ BLUES FUNK ROCK REGGAE SOUL

AND MORE!

 ~Till 4 am ~ 

JOIN US TONIGHT…
Underground Wonder Bar Celebrates 27 Years in Chicago!
Join us in celebrating 27 years – in 27 days … October 27 – November 22
Each day is something special! $7 Speciality Cocktail + Special Guest Artists for each 27 days leading up to TWO benefit anniversary parties!
Real Fun Music  |  #Live365
Lonie Walker's

Underground Wonder Bar
A cherished musician's ESTABLISHMENT providing LIVE MUSIC, food, drink & MORE SINCE 1989
Bigger and Better!the new River North location is spectacular!
Boasting 3 stages with 2 bars on 2 levels. NIGHTLY UNTIL 4am/ 5am Saturday
Created by a music lover for music lovers, the UWB is a dreamer's paradise in the Chicago music scene. Lonie Walker's vision provides a platform for real Chicago world-class musicians, artists, atmosphere and organic food. A cultural landmark featuring an eclectic lineup of jazz, blues, rock, reggae, soul, funk, folk, world, spoken word, comedy, theater & DJ's,
"a determinedly engaging and entertaining night spot serves food and drink but most of all it serves music in a markedly untrendy, intimate, colorful and lively setting"
-Rick Kogan, Chicago Tribune
…WELCOME HOME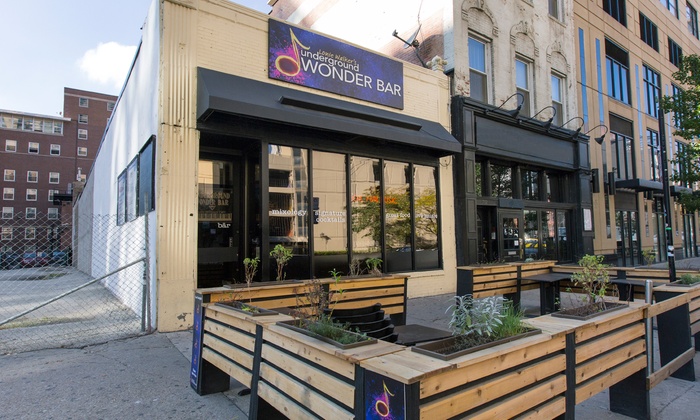 Recently Named TOP 50 Jazz Clubs in America!

 Visiting Chicago? To find and compare hotels in Chicago, check HotelsCombined!